Seeking a way to download TikTok videos without the annoying watermark? We understand the frustration that watermark can bring, particularly when you aim to share your videos with friends or repurpose them for different social platforms. To address this, we've curated a list of excellent tools that enable you to download TikTok videos while maintaining their quality and avoiding the watermark.
With the utilization of these tools, you can effortlessly download any TikTok video, making it easier to share with friends, family, or even leverage for online monetization. No longer will you have to fret over watermark issues. Peruse our recommended tools below and select a free TikTok downloader to kick-start your video-saving journey.
Let's delve into this guide for downloading TikTok videos. Given that watermarked TikTok videos can mar the visual appeal, you have two options: either create your videos externally or make use of our recommended TikTok video downloaders.
Top Picks for TikTok Video Downloaders
While numerous video downloaders are available, not all are adept at efficiently saving TikTok videos or downloadable content. These tools empower you to:
- Transform content
- Save an array of TikTok videos
- Secure TikTok videos sans the watermark
Here are some of the finest TikTok downloader tools that facilitate watermark-free video preservation:
1. Y2mate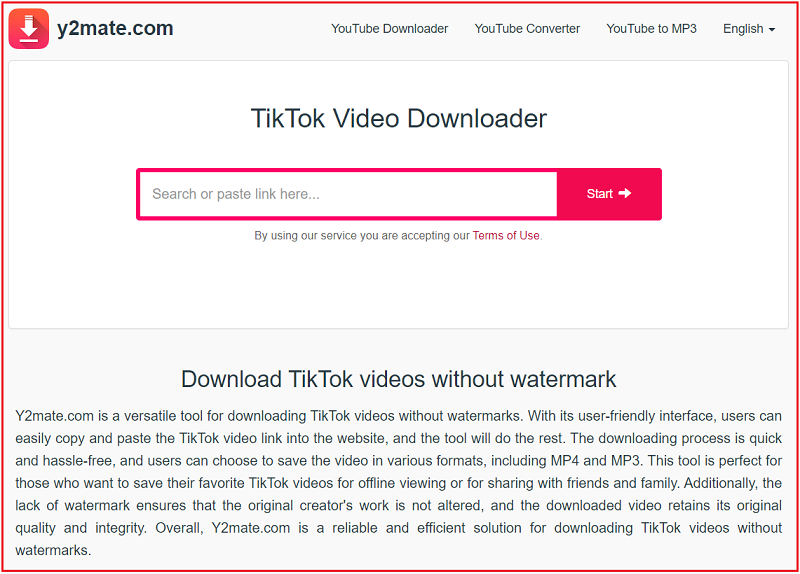 Download TikTok videos with Y2mate
Y2mate reigns as the preeminent TikTok video downloader, catering to those who seek analytics and a seamless video download experience. You can not only peruse the most outstanding content but also access data insights, allowing you to cherry-pick successful TikTok users for video downloads. Downloading TikTok files through Y2mate is safe, alleviating concerns about potential complications.
Key Features:
- One-click TikTok video downloads
- User data exploration on TikTok
- Access to top-performing TikTok videos
- Limitless downloading capabilities
2. Lovetik.com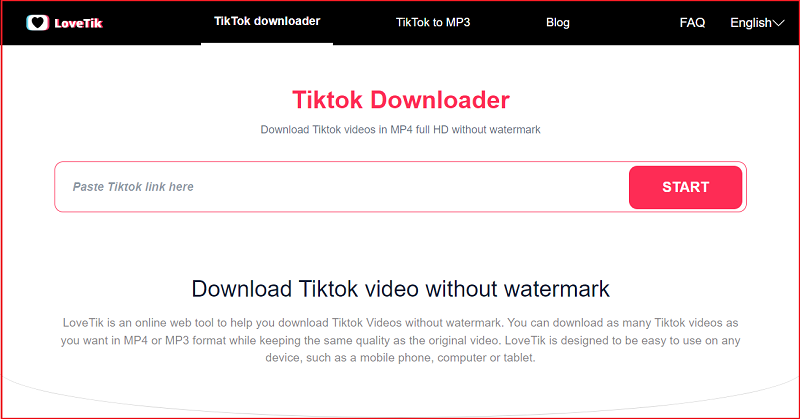 Lovetik- The best TikTok Downloader website
Optimal TikTok Watermark Removal App
Lovetik simplifies the process of downloading your favorite TikTok videos without the watermark hassle. Compatible with both Google Chrome and Safari, this tool facilitates video downloads across various devices. By copying the video URL from the TikTok app and pasting it into the input box, you can swiftly download videos.
Key Features:
- Watermark-free downloads
- Compatibility with phones and desktops
- Completely free of charge
3. SSVID.net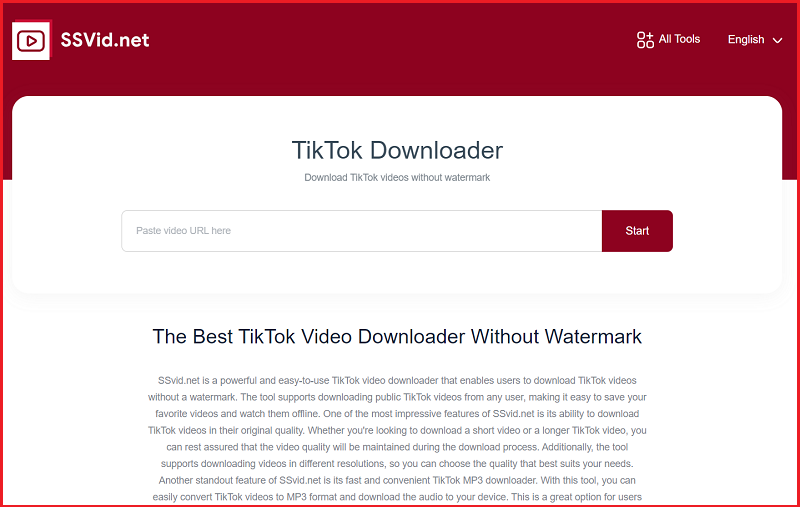 SSVID.net- Download TikTok videos for all devices
SSVID.net emerges as a valuable TikTok video downloader platform that effectively eliminates watermarks from your saved videos. Available for both Mac and PC users, this straightforward desktop application is free of charge. By copying the video URL and pasting it into the designated download box, you can conveniently save videos to your computer or phone sans the watermark.
Key Features:
- High-definition video downloads
- Watermark removal for TikTok videos
- Unlimited video preservation
- No need for software installation
4. Tik2mate.com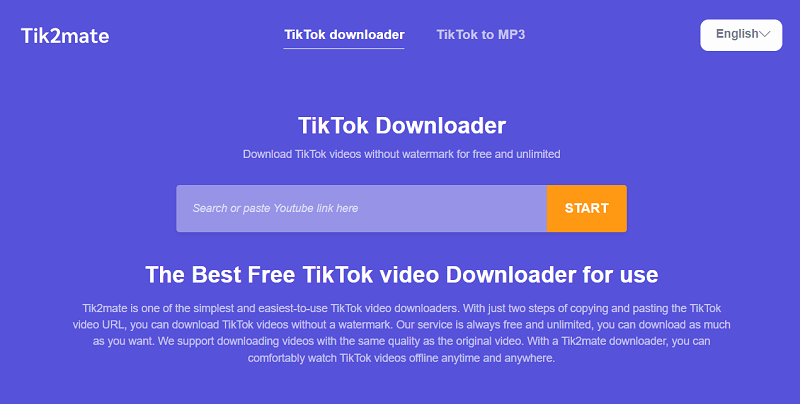 Tik2mate.com- Download TikTok MP4 videos in HD quality
Tik2mate stands as a free online TikTok video downloading tool that eliminates the necessity for software downloads. You can initiate video preservation the moment you land on the website. This platform empowers you to download videos in HD quality, all while evading watermarks. Unlimited downloads to your folders are supported, and no account creation is required—a boon for repurposing content across social networks and capitalizing on TikTok.
Key Features:
- User-friendly and secure
- Targeted video downloads
- Compatibility with mobile devices
- Streamlined organization of downloads
- Swift access to prime TikTok videos
5. Tikmate
Tikmate, a Google Chrome extension and free TikTok downloader, provides a seamless solution for watermark-free video downloads without compromising quality. Installation is a breeze and takes mere seconds. Once installed, a "Download" button appears on every video, ensuring swift and easy downloads.
Key Features:
- Chrome extension functionality
- Watermark-free downloads
- High-definition video quality
- Rapid download speed
- Compatibility with various devices
In summary, these tools cater to your TikTok video downloading needs by bypassing watermarks and maintaining video quality. Feel free to explore these options and select the one that best aligns with your requirements. Enjoy watermark-free TikTok video downloads with utmost convenience and efficiency.